 Safe and secure centers
Your children's safety is our number one priority — and we've taken every step to make sure they're safe and secure while they spend their day with us.
All Centers Feature:
Safe, secure and private access — A security fob is required to gain entry
Cameras in each classroom that are monitored in the administrative offices
Rounded corners in hallways and classrooms
Bathrooms designed for preschoolers' use
Changing tables that face out so that teachers never have their backs to the children
Spacious, fenced-in playgrounds that have designated areas for infants, toddlers, and preschoolers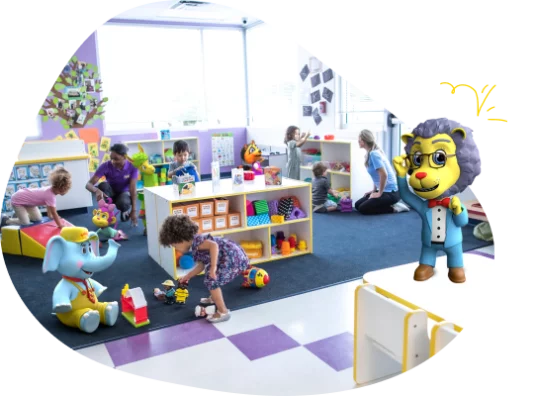 Purpose-built early education centers
Inside and out, the details of our childhood education and daycare centers were deliberately picked — for the purpose of keeping your children healthy, safe and happy, and giving them the best possible early education experience.
Those details include rounded corners and wrapped columns in our hallways and classrooms, as well as security cameras and key fob access.
Every detail designed with children in mind
With attention to every detail, we design TLE® Centers to foster an environment where early childhood education feels comfortable, safe and fun — and encourages a young child's natural curiosity and creativity.
For our Little Learners, the milestones are:
Carefully selected furniture, accessories, and supplies to match the children's age and size
Separate classrooms specifically designed to meet the needs of children in our Six Stages of Early Development
Access to early childhood-appropriate technology
Make Believe Boulevard®, a miniature Main Street, USA. An interactive classroom designed to develop and expand socio-dramatic play amongst children
L.E.A.P. Interactive® boards that engage children in hands-on learning activities
The right features for each age group
Children have dramatically different needs at different ages, and each TLE® Center features classrooms and playgrounds that are developmentally appropriate — with age-appropriate educational toys and equipment hand-selected by our team of early education experts, and two age-appropriate playgrounds: one designed for toddlers and one for preschoolers.
See a TLE® Center in person
Bring your child, too! There's nothing like seeing for yourselves what a comforting, inspiring atmosphere each TLE Center creates.
Whether your child is an infant, toddler, kindergartener, or anything in between, we're confident they'll love our bright, vibrant school.
Tuition and Openings